INAE-ATSE Sustainable Urban Water Management Workshop
The INAE- Australian Academy of Technology and Engineering (ATSE) joint Workshop was held on March 13-16, 2017 at Jodhpur. Prof. CVR Murty, Director, IIT Jodhpur was the coordinator from INAE and Prof. Tony Wong was the coordinator from ATSE. The Workshop had a well-structured Agenda and useful recommendations are expected to be generated. Eight delegates from Australia and 25 experts from various national organisations participated in the Workshop. The Workshop was inaugurated by Dr.B.N. Suresh, President, INAE, on the 13 March 2017. And the most revered moment was the participation of the Maharaja of Jodhpur, His Highness Gaj Singh II, who delivered a pre-dinner talk on Water thoughts for the participants to dwell on.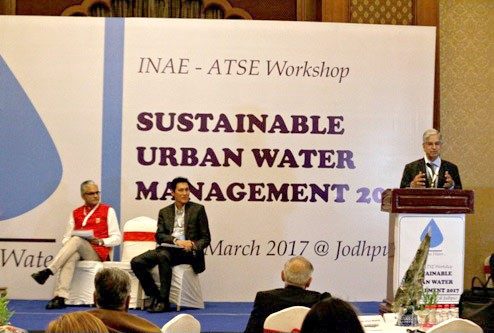 Dr. BN Suresh, President, INAE Delivering his Address
The Workshop was aimed at starting the conversation, focusing on a selected number of priority themes, and influencing a transformative change in the way urban water services are delivered and managed in cities. These are necessary in responding to future uncertainties and vulnerability brought about by an increasing world population that are concentrated in cities, a continually evolving economic and governance structure and a changing climate. During the Workshop, the focus was on: Availability and Distribution, Quality and Treatment, and Policy and Management of water in Urban Areas Speakers and Participants were intensely engaged in deliberations along three tracks, namely: (1) Integrated Approach to improving Sanitation & Sewerage Services, (2) Securing Urban Water Supply through Coordinated Demand & Supply Side Innovative Management, and (3) New Urban Water Governance & Community Engagement for Integrated Urban Water Services.